BUY GIFT CARD
Now 20% discount on all gift cards
RENT THE FULL HOUSE
FOR SMALL GROUPS
From 500 SEK per person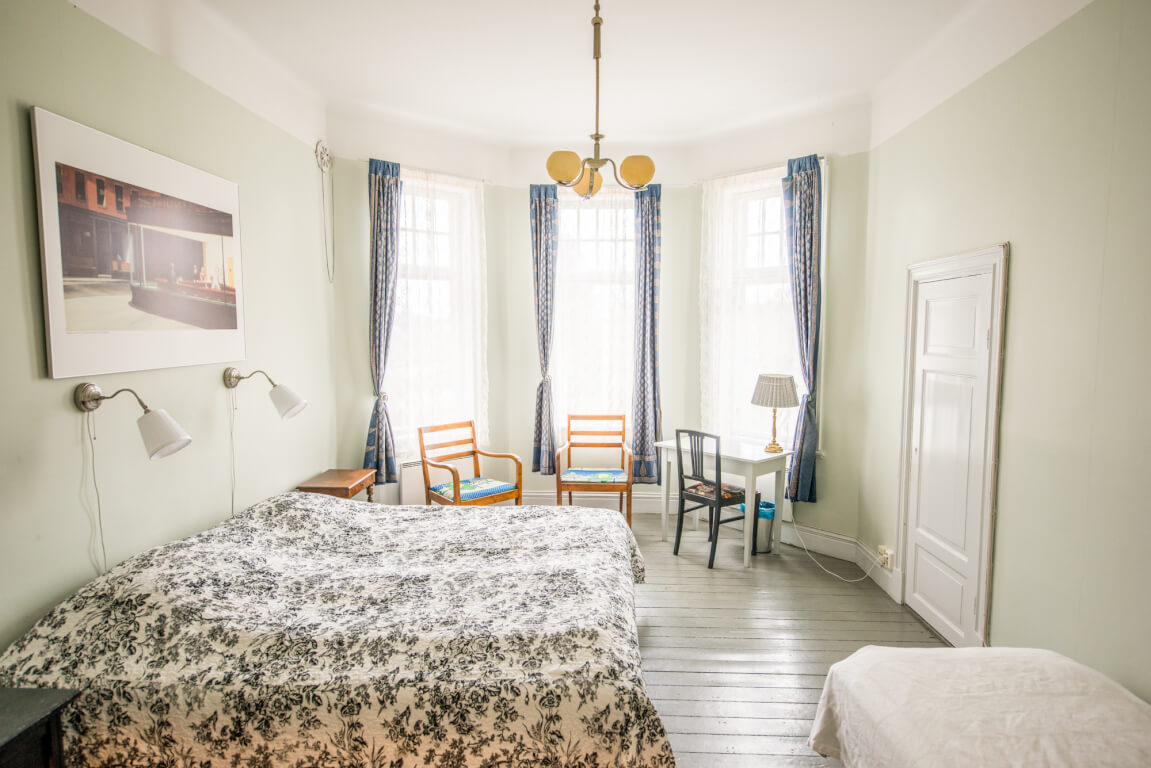 Welcome to Villa Söderåsen: B&B and Gatherings
Welcome to Villa Söderåsen, an STF member Bed & Breakfast embedded in Söderåsens National Park. Book a single, double or 3-bedded room and come to Bed & Breakfast with made beds, breakfast included or book a family adapted hostel room with bunk beds and bring your own linen and cook in the nice guest kitchen. As a group or an organizer you can rent the entire house for different gatherings.
Welcome to Villa Söderåsen
B&B and Gatherings

Röstånga and Söderåsen offer many activities for adults, children, and the whole family. It is also a wonderful place to just be and enjoy the stunning scenery.
Villa Söderåsen is a crossroads between civilization and pristine nature. When you step out from the back of the house you immediately find yourself enveloped by the national park's undulating beech forest and breathtaking ravines, with only about a ten minute walk to Odensjön, a petite lake ensconced in a natural depression like a dark, magic mirror. Go out from the front of the house and you find yourself in Röstånga, a vibrant and creative little village featuring a café, a grocery store, restaurants, as well as an art gallery, microbrewery and a host of other local enterprises.
Villa Söderåsen's spacious garden provides a wonderful place for relaxation, but also for playing and games. The same is true inside the house, which has been a tourist hotel since it was built in 1904.
The house has forty beds in 14 guest rooms of different categories. It offers single, double and triple rooms for maximum 3 adults, some smaller, some larger and some with balcony but all with it´s own personality. Families are warmly welcome to spacious rooms suitable for four to six persons with max 3 adults/room.

At Villa Söderåsen you book all rooms with Bed & Breakfast – made beds, towels in the room, and a delicious house breakfast featuring a number of fresh, mostly organic treats. And of course we'll take care of cleaning the room before you leave! 
The spacious guest kitchen allows families to cook at the same time. There are several grill facilities in the garden as well as on the back of the house near the forest.
The whole house is available to rent for groups or for large happenings such as parties, weddings, or family reunions. Its also a perfect fit for organizing retreats, courses or company events.
Our vision is that Villa Söderåsen will not only serve as a meeting place between people and nature, but that it will also serve as a place where you can find the peace and strength to get to know yourself.
You can't stay closer to nature.
Come make yourself at home!