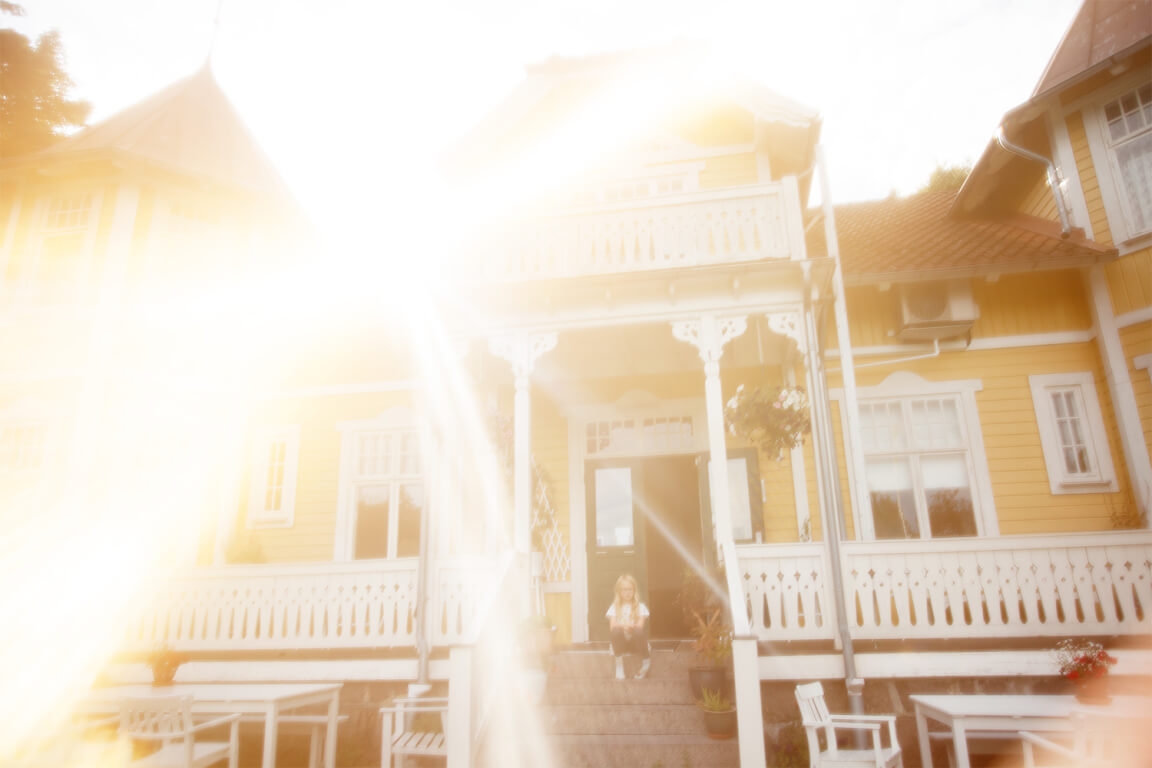 Villa Söderåsen B&B and Gatherings
Villa Söderåsen offers:
40 beds in 14 guest rooms of different categories. (Bathrooms are in the corridors nearby).
B&B with made beds on arrival, breakfast in the morning and departure cleaning included.
Three guest rooms for pets that also are allowed into our common rooms.
Whole house rental for different gatherings.
Relaxation, dining, games and board games inside the house or in the house's spacious garden.
An immediate access to Söderåsen National Park and its inviting nature with swimming, hiking, running and other activities like canoeing, trolley cycling and horse riding.
A close access to the local grocery shop ICA, the bus stop, café and restaurants, etc…
Our vision is that Villa Söderåsen will not only serve as a meeting place between people and nature, but that it will also serve as a place where you can find the peace and strength to get to know yourself.
You can't stay closer to nature.
Come make yourself at home!
Book
Book (STF members)
When you book a room at Villa Söderåsen, you come to Bed and Breakfast and will be welcomed to made beds with linens and towels in the room. You'll enjoy the house breakfast  featuring a variety of fresh and organic items. Also, we'll take care of cleaning the room when you leave.
Welcome and make yourself at home!
ROOM CATEGORIES
Single room
Double twin standard (2-3 pers, max 2 adults)
Space for extra bed to children up to 18 years old
Beautiful room with balcony facing the forest (2-3 pers)
Romantic room with double bed & balcony 
Two pers – 995 kr (STF: 895 kr)
Spacious vintage room on the entrance floor (2-4 pers, max 3 adults)
High ceiling, beautiful windows – a light, spacious and wonderful room
Space for extra bed to children up to 18 years old
Largest room/ family room (2- 6  pers, max 3 adults)
Beautiful room under the tower with large windows, comfy beds & a cosy sofa. Has pullout bunk beds to be used for families and a bed sofa.
Bathrooms are in the corridors near your room.
Please note that pets are allowed in Villa Söderåsen's common areas, but only in three of our 14 guestrooms.
If you are a member of STF or HI please book directly via The Swedish Tourist Association
Free Wi-Fi/fiber
Fully equipped kitchen with space for many families to cook together. 
Large lobby area with couches, perfect for hanging out and being comfy. 
Large garden with outdoor furniture appropriate for big parties or small gatherings. 
Toys and play area for small children. 
A variety of books, magazines and boardgames. 
Outdoor grill areas. 
Grill area with firewood. 
Villa Söderåsen has a handicapped accessible room with restroom as well as parking.
Options
Food pack
Welcome to make a food pack from the breakfast buffé for the days events. 
–   Adults: 75 kr
–   Children 4-12 years: 55 kr
–   Children 0-3 years: free
Pets/Allergic? 
We have a total of 3 rooms where pets are welcome, contact us when booking if you bring a pet or if you are allergic! Pets: 120 kr/pet per night 
Baby bed – 150 kr (one-time cost)
Please note! Children 0-3 years sleep for free in the parent's beds
Cleaning service
–    150kr/cleaning if you wish to order room cleaning while staying at Villa Söderåsen. 
The house breakfast is included at Villa Söderåsen and features many organic and locally produced items. When the house has many guests, breakfast is served as a buffet but otherwise is served on individual trays.
Some of the menu items are natural yogurt as well as soygurt; a variety of cereals, granola and muesli; toppings such as raisins, seeds, and coconut flakes; breads; different spreads (even for vegans); regular Milk, soy milk, and wheat milk.
To drink we offer a selection of teas, coffee, hot chocolate and juice.
We love breakfast at Villa Söderåsen, come and enjoy it with us!
If you have booked a room at Villa Söderåsen, breakfast is included. For you renting the whole house, you can order the House's Breakfast as an extra option:
Adults: 99 kr
Kids 0-3 yrs: free
Kids 4-12 yrs: 45 kr
There are many possibilities for meet-ups and gatherings at Villa Söderåsen. It is a perfect place to gather the family, hang out with friends, or have all kinds of reunions. You can cook together in our fully-equipped kitchen or you can order
catering
from one of our many local catering partners. Its always possible to order our Villa Söderåsen
breakfast buffet
. It's your choice to take care of meals yourself, or order breakfast, catering and other services from Villa Söderåsen for a fee.
At Villa Söderåsen there are many possibilities for those who want to arrange workshops, retreats, and events. And for smaller groups who just want to stay and relax at Villa Söderåsen without disturbing other guests, the nature makes a perfect place to gather or you can rent the local community center, Röstångagården.
Choose the number of rooms that suit your gathering, or simply
rent the whole house
and have it for yourself. If your group is more than 20 people we recommend renting the whole house.
We work with the local community center Röstångagården, which has a room around 100 square-meters. It has wooden floors, fine acoustics, and is spacious and light. It is suitable for up to 80 persons. Röstångagården lies about a 5-minute walk from Villa Söderåsen.
Villa Söderåsen has
Large, fully-equipped kitchen
Large spacious garden with eating areas and possibilities for games, exercise, parties, etc…
Many local catering opportunities. Local-produced, organic and ofcourse also vegetarian/vegan.
DJ/ PA equipment, microphones, piano and lighting are available for rent.
Villa Söderåsen has a handicapped enabled double room and restroom as well as suitable parking.
For your gathering you can choose to order the house breakfast, catering, or choose to take care of meals yourself.
Option to rent Röstångagården's large hall (5 minutes walk) for classes or large gatherings.
Give the gift of a package at Villa Söderåsen, or give any monetary amount. We'll send the gift card directly to the receiver, or you can do it yourself with the regular post. Postage costs apply.
Please contact us for more information.
Villa Söderåsen was built in 1904 and was then called Röstånga Turisthotell. Since then, the house has been continuously used as some sort of hotel/inn. The lovely building has absorbed this history both outside and in. The natural beauty of the area has been the main tourist attraction of the region from past to modern times.
We, the Mullaert family, have been in charge of Villa Söderåsen since March of 2016. Our vision is to continue the fine tradition of quality at Villa Söderåsen by making it a personable and welcoming environment for all types of gatherings and occasions.. We also want to bring in the things that particularly warm our hearts such as; nature, yoga, music, meditation, dance, and art in all forms. The Mullaerts have lived in Röstånga since 2010 and have a passion for the village's cultural life and development.
Åsa Mullaert who takes care of the daily running of Villa Söderåsen, is also a trained yoga instructor. She has regular yoga classes and is available for private consultation. In addition to teaching yoga, Åsa also arranges yoga classes, workshops and retreats in beautiful Röstånga for other teachers or inspired people who teach or have something positive to share. Villa Söderåsen, Röstånga och Söderåsen; the perfect place for any event.
Sebastian Mullaert is an international touring musician and composer. His studio is in Röstånga, where he brings in a variety of musicians and artists for creative collaboration. Villa Söderåsen, the studio and the nature surrounding Röstånga are a large part of Sebastian's creative process. These are intrinsic to what he wants to share with and inspire in other creators.
Villa Söderåsen lies in central Röstånga, directly beside the Röstånga Tourist Bureau and the entrance to Söderåsens National Park. The House was earlier called Söderåsens Vandrahem.
The address is:
Nackarpsdalsvägen 5
268 68 Röstånga
If you don't have access to a car, the easiest way to come is to take the train to Stehag and then a bus to the Röstånga bus station that lies 150 meters from Villa Söderåsen.
From Malmö 60 min.
From Copenhagen Airport 90 min.
From Hässleholm 60 min.
From Höör & Eslöv 35 min.
There is free parking behind the house, including handicapped parking. Parking in front of the house is not allowed, but along the side of the house it is allowed to park. If Villa Söderåsen's parking is full, there is an additional large public parking area in the village between ICA, the Tourist Bureau, and Röstånga Gästis.